Info Days, Education Pop-up Booths & Campus Tours
Info Days
Every year, UWC Hong Kong welcomes the general public and prospective students and their parents in Hong Kong to the Li Po Chun United World College on Info Days. Visitors to Info Days can meet our students and hear first hand about our programmes and the aims of UWC. Students play a large part in organising these Info Days.
This year, we will have two Info Days including "Information Sessions" about scholarships and admission, one on 13 October 2018 (Saturday) and one on 11 November 2018 (Sunday).
Our College is 5 minutes' walk from Wu Kai Sha MTR station, Exit A. Please feel free to contact us at 2640 0441 or email us at admissions@lpcuwc.edu.hk.
Students and Parents are encouraged to register to attend the events via EventBrite (free). Click the following links to register (free) for the events:
Prof Joseph Sung will be joining the UWC Info Day on the 11 Nov, together with many notable alumni and parents, sharing their UWC stories and views on UWC's unique education model.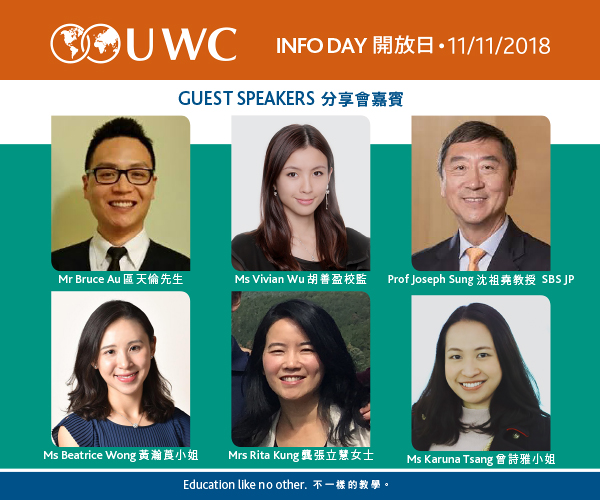 GUEST SPEAKERS AT SHARING SESSION (left to right, top to bottom)
MR BRUCE AU, Senior Project Manager, Hong Kong Jockey Club Charities Trust
MS VIVIAN WU, Founder and School Supervisor, Aristle Group International
PROFESSOR JOSEPH SUNG 沈祖堯教授 SBS JP, Former Vice-Chancellor and President, CUHK
MS RITA KUNG, Parent of Two UWC-USA Students and Spouse of UWC-USA Alumnus
MS BEATRICE WONG, Vice President, Barclays Investment Bank
MODERATOR: MS KARUNA TSANG, Senior Public Affairs Manager, WeWork
Programme Rundown:
Time
What's Happening
11:00
Doors Open and Welcoming Guests
11:30-12:30

UWC Overview and Q&A by Principal Arnett

[Assembly Hall]

12:30-13:30*

*Packed Lunch is available for purchase in front of the pool area

Activities at Courtyard:

- OVERSEAS UWC INFORMATION BOOTH
- EOTC (EDUCATION OUTSIDE OF THE CLASSROOM) FAIR
- STUDENT PERFORMANCE
- CAMPUS TOUR
- LPCUWC SOUVENIR
- LPCUWC YOUTH PROGRAMME

[Courtyard]

13:30-14:00

Admission Presentation

[Lecture Room 103]

Academics Presentation

[Library Classroom 3/F]

Campus Tour

[Depart from Courtyard]

14:15-14:45

UWC Alumni and Parents Sharing

[Courtyard]

15:00-15:30

Admission Presentation

[Lecture Room 103]

Academics Presentation

[Library Classroom 3/F]

Campus Tour

[Depart from Courtyard]
Education Pop-up Booths
A great opportunity to meet our students, alumni and parents and let them tell you more about the unique UWC Experiental Learning model and our 17 Schools and Colleges first hand! Our Selection Director and Admission Director will be available to answer to any queries regarding the application and admission process at the following Education Fairs:
Direct Subsidy Scheme Schools Expo
Date: 10th November, 2018, 10am - 4pm
Venue: Cordis Hotel, 55 Shanghai Street, Mongkok
Further event details is available here.
Campus Tour
The Admissions Office hosts Campus Tours at Li Po Chun United World College once in month during the application period. The Office will be able to answer any further queries regarding the admission process - please contact the Admissions Director at 2640 0441 or admissions@lpcuwc.edu.hk to sign up.